Public engagement
I am @VickyMaths1729 on Twitter.
---
My first book, Closing the Gap: the quest to understand prime numbers, was published by Oxford University Press in October 2017.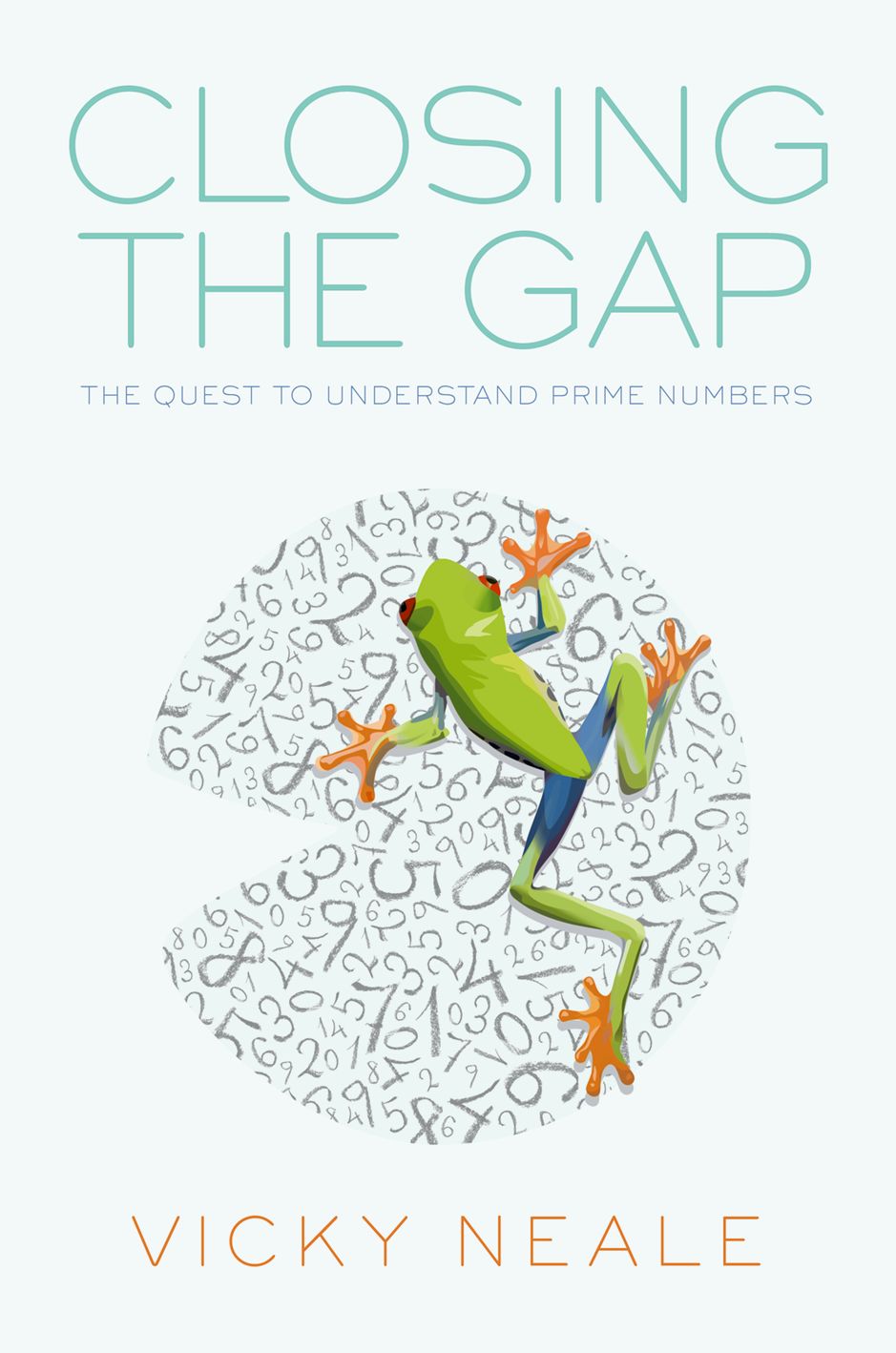 ---
I give public lectures, and give talks and workshops in schools. I contribute to and help lead a range of mathematical summer schools for teenagers, including PROMYS Europe.
---
I have contributed to several programmes on BBC Radio 4, they're still available for listening online.
June 2017: talked about prime numbers for the Election Free Zone on BBC Radio 4's PM programme.
December 2016: guest on Free Thinking on BBC Radio 3 for a discussion about attitudes to mathematics, and the new Science Museum Winton Mathematics gallery.
April 2016: interviewed by Tim Harford on More or Less about the UK Mathematical Olympiad for Girls and European Girls' Mathematical Olympiad.
March 2015: guest on Start the Week, discussion about 'The Mathematical Mind'.
November 2014: presented A History of Ideas, programme about the mathematics of beauty.
November 2014: guest on A History of Ideas, discussion about 'Why Are Things Beautiful?'.
September 2014: guest on In Our Time, programme about the number e.
July 2014: guest on The Infinite Monkey Cage, programme called 'Numbers Numbers everywhere'. To listen to the programme, follow the link, or listen to the extended podcast.
October 2012: guest on In Our Time, programme about Fermat's Last Theorem.
---
I wrote a feature article for New Scientist, called Riddle of the primes: why do they come in pairs? (I'm afraid you might need a subscription to read the full article online).
I wrote an article for issue 4 of Chalkdust magazine, on Prime jewellery. You can see some pictures from that article on my mathematical craft page. I had a guest post on Alex Bellos's Guardian blog, on how to make mathematical Christmas cards.
I wrote an article for The Conversation called Mathematics is beautiful (no, really). I was interviewed by Ian Sample for his feature Magic numbers: can maths equations be beautiful? for the Guardian. Cal Flynn wrote an article on What makes maths beautiful? for New Humanist magazine, with a brief quote from me.
Following the tragic death of Maryam Mirzakhani, I wrote a piece for The Conversation called Maryam Mirzakhani's success showed us the challenges women in maths still face.
---
I have a blog, Theorem of the week, aimed at people who are not expert mathematicians (although most of the posts in the last few years have been for my undergraduates).
---
I was one of the London Mathematical Society's Holgate Session Leaders from 2015 to 2017. I continue to visit schools and colleges to give talks and workshops, as part of my role at the University of Oxford. If you would like me to visit your school to give a talk or lead a workshop, please email me (address at the bottom of this page).
In the summer of 2013, I was one of the London Mathematical Society's two Popular Lecturers, and gave two lectures on "Addictive Number Theory". The second lecture was filmed and is available to watch online.
---
In 2016, I and a couple of Oxford colleagues made a short film about the mathematics of navigating the globe, inspired by two artefacts at the Ashmolean Museum in Oxford.
In February 2014, I was interviewed for a podcast about the twin primes conjecture.
In 2013, I was interviewed for a short film made by two Cambridge students, called Imagining Things.
---
The United Kingdom Mathematics Trust (UKMT) does many good things. I am a very active volunteer with UKMT. I am currently on the UKMT Council, am Chair of the Enrichment Subtrust, and am a member of the British Mathematical Olympiad Subtrust. I have been involved with helping with summer schools, maths circles, mentoring, presenting video solutions, and various other bits and pieces.
I was on the organising committee of the European Girls' Mathematical Olympiad 2012, which was held at Murray Edwards College, Cambridge in April 2012. This was the inaugural competition, created as a joint venture between UKMT and Murray Edwards College. There are lots of photos on the EGMO 2012 Facebook page.
---
I have led masterclasses in various places round the UK as part of the Royal Institution series of maths masterclasses.
---
I spent almost two years working on Underground Mathematics, which was then called the Cambridge Mathematics Education Project, creating a website with free online resources for teachers and students of A-level Maths. They have loads of great resources (mostly not created by me)!
I have worked with NRICH, which has lots of interesting problems, games and articles for school students of all ages.
NRICH is, in turn, part of the Millennium Mathematics Project. I gave a couple of talks to school students for the MMP, and they put videos of them online: "7 things you need to know about prime numbers" and "How to solve equations". On the subject of videos, I also spent a few minutes talking to Plus about some of the things I love about mathematics.
The MMP also includes other projects such as Motivate, which organised videoconferences for schools; I took part in several of these. I also helped with MMP activities as part of the Cambridge Science Festival, and led workshops at events organised by the Further Maths Support Programme.
I have also contributed a couple of reviews for Plus: of Crafting by concepts and 17 Equations that changed the world.
---
While in Cambridge, I dreamed up and launched the Cambridge Maths Circle, with the help of many others (including the Millennium Mathematics Project and several members of the Cambridge Faculty of Mathematics).
I was one of the academic programme coordinators for the Cambridge Maths Sutton Trust summer school in August 2011, and gave several lectures and supervisions at the 2012 and 2013 Cambridge Maths Sutton Trust summer schools. I contributed to various other activities organised by the Cambridge Admissions Office and by Murray Edwards College, Cambridge.
---
This page last updated 1 November 2017.
Vicky Neale